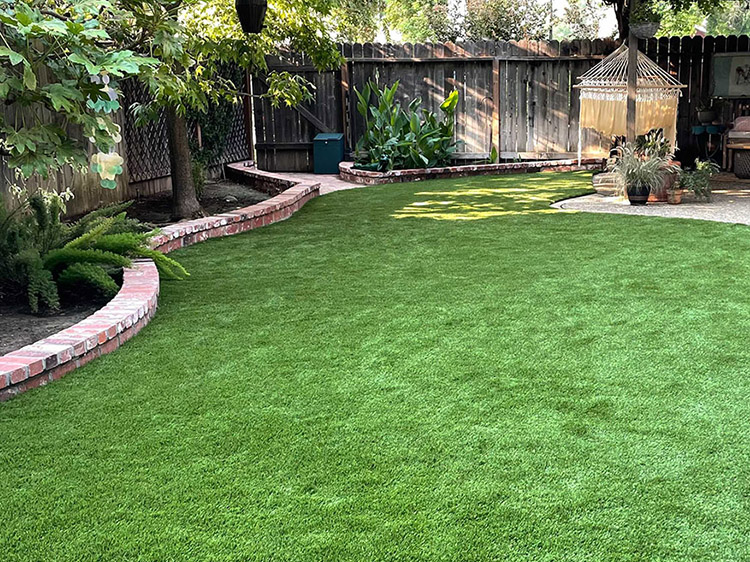 The charm of Tampa homes often resides in their vibrant backyards. However, the sweltering Tampa sun combined with the need for functionality can sometimes leave these spaces lacking in aesthetics. Enter the innovative solution: borders made of artificial grass for homes in Tampa. They not only give backyards a polished look but also clearly delineate one area from another, enhancing the overall utility and appeal of the space.
Why Define Spaces in Backyards?
Defining spaces in backyards offers homeowners a structured outdoor area where each section has a unique purpose, enhancing both functionality and aesthetics. Let's delve into its various benefits.
Purposeful Use
Defined spaces help homeowners utilize their yards to the fullest. From play areas to lounges, separate zones ensure each space serves a clear purpose.
Aesthetically Pleasing
Defined areas create a sense of structure and order. This enhances the overall visual appeal, making the yard look well-maintained and inviting.
Enhanced Functionality
Separating areas such as the grill zone from the children's play zone promotes safety and practicality.
Increases Property Value
A well-structured backyard can boost the value of Tampa homes, making them more attractive to potential buyers.
Benefits of Using Artificial Grass to Define Spaces
Utilizing artificial grass for homes in Tampa as a defining element in backyards offers the following advantages:
Low Maintenance
Artificial grass requires minimal upkeep compared to natural grass. No mowing, watering, or fertilizing means more time enjoying your backyard.
Durability
Tampa's heat can be brutal on natural grass, but artificial turf remains lush and green year-round, irrespective of weather conditions.
Versatility
Available in various textures and shades, artificial grass can be tailored to fit any backyard design or theme.
Eco-Friendly
With no need for pesticides, fertilizers, or regular watering, artificial grass is an environmentally conscious choice.
Creative Ways to Use Artificial Grass to Define Different Yard Spaces
Tampa synthetic grass, with its versatility and range, can be innovatively incorporated to demarcate different zones in your yard, blending functionality with a touch of green elegance. Consider these ideas for inspiration.
Patio Edges
Lining the peripheries of your patio with artificial grass is an excellent way to create a smooth and appealing transition from hardscape to landscape. Design tip: Opt for a slightly taller blade of grass for the borders to give a raised, tactile feel, enhancing the patio's distinction from the rest of the yard.
Play Zones
Children's play areas benefit from the cushioned layer of artificial grass, ensuring a safer and softer ground for activities. It's non-toxic, ideal for play, and any accidental spills or messes can be cleaned with ease. Design tip: Integrate playful patterns or colored turf designs, like hopscotch or a mini soccer field, to make the area even more child-friendly.
Outdoor Living Rooms
Mimic the coziness of indoor spaces outdoors! Lay down artificial grass as a "rug" beneath your outdoor furniture, creating an inviting and plush living space under the Tampa sun. Design tip: Shape the artificial grass "rug" with curved edges or unique geometrical patterns to add a touch of sophistication to your outdoor lounge area.
Paths and Walkways
Trade in the stone or gravel paths for artificial grass walkways. Not only are these green paths gentler on the feet, but they also add a unique aesthetic appeal, leading guests through your garden with a soft, verdant touch. Design tip: Pair these grassy paths with stepping stones or incorporate LED lights underneath for a glowing pathway by night.
Garden Borders
Delineating flower beds or vegetable patches with artificial grass offers a crisp, neat contrast against blooming colors or fresh produce. This approach ensures that your garden spaces are both practical and beautiful. Design tip: Intermix different shades of green for the borders, mirroring the natural variation found in traditional lawns for a more authentic look.
Meditation Corners
For those who want a serene nook for relaxation or meditation, a patch of artificial grass surrounded by some potted plants and perhaps a water feature can set the mood. Design tip: Add a few outdoor cushions or a hammock over the artificial grass, making it the ideal spot to lounge, read, or even nap.
Poolside Lounge
Many Tampa homes sport beautiful pools. Lining the pool with artificial grass instead of regular tiles or stone can reduce slip hazards and offer a refreshing, soft surface to walk or sunbathe on. Design tip: Complement the blue of the pool with a lighter shade of artificial grass, creating a vibrant contrast that screams summer all year round.
Driveway Edges
For those looking to enhance the aesthetic appeal of their driveway, flanking both sides with artificial grass strips can add a dash of luxury. Design tip: Ensure that the artificial grass used here is of a more robust type, suitable for high-footfall areas, and resistant to the occasional tire brushing against it. Synthetic turf for a putting green in Tampa is a great choice.
Artificial grass borders offer an effective and beautiful solution to define spaces in the multi-use backyards of Tampa homes. By blending functionality with aesthetics, these borders not only uplift the visual appeal of outdoor areas but also enhance their usability.
For Tampa residents keen on creating a standout outdoor space, artificial grass is a valuable and lasting investment that promises both beauty and functionality.