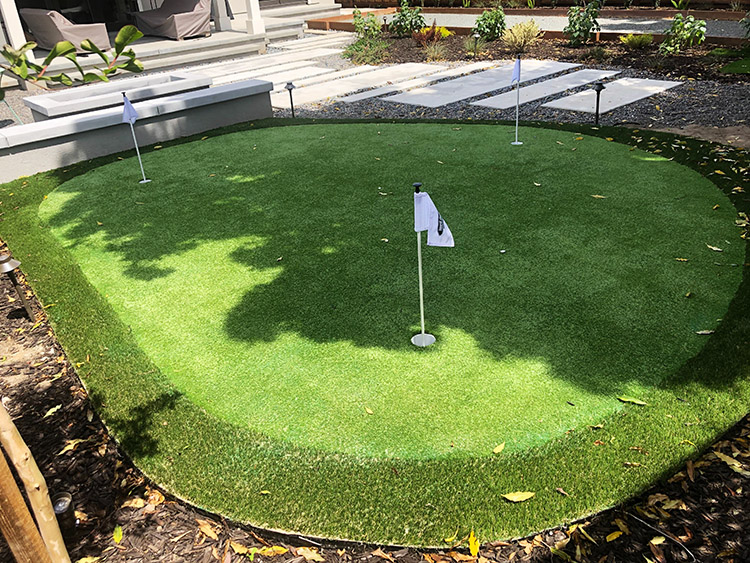 Artificial grass putting greens are a great addition to any backyard. They provide a beautiful, natural-looking surface that is perfect for practicing your putts or playing a game of mini golf with the family. But with so many different types and brands of artificial grass on the market, how do you choose the right one for your needs? Here are a few things to consider when choosing an Atlanta putting green for your backyard:
1. The type of turf.
There are two main types of artificial grass turf: nylon and polyethylene. Nylon turf is more durable and has a more realistic look and feel, while polyethylene turf is less expensive and easier to install.
2. The size of the green.
Artificial putting greens come in a variety of sizes, from small mats that can be placed in a corner of your yard to large, rolling greens that cover a significant area. Consider how much space you have available and how much use the green will get when choosing the right size for your needs.
3. The type of installation.
Artificial turf in Atlanta can be either permanently installed or portable. Permanent greens are more expensive and require more work to install, but they will last longer and provide a better playing surface. Portable greens are less expensive and can be moved around as needed, but they may not last as long and may not provide the same level of quality.
4. The price.
Atlanta grass installation range in price from a few hundred dollars to several thousand, depending on the size, type of turf, and installation method. Choose the green that fits your budget but also provides the features and quality you want.
5. The warranty.
Most artificial grass manufacturers offer some type of warranty on their products. Be sure to read the fine print and understand what is covered and for how long before making your purchase. Furthermore, review any installation instructions carefully to be sure you or the installer do not void the warranty.
6. The reviews.
Before making your purchase, be sure to read online reviews of the artificial grass putting greens you are considering. Pay attention to both positive and negative reviews to get a well-rounded idea of the quality of the product and the company.
7. The return policy.
In the event that you are not satisfied with your purchase, it is important to know the return policy of the company you are buying from. Some companies may offer a full refund, while others may only offer a partial refund or exchange for another product.
By keeping these things in mind, you can be sure to choose the right Atlanta putting green for your backyard and budget. With so many options on the market, there is sure to be a green that is perfect for you.