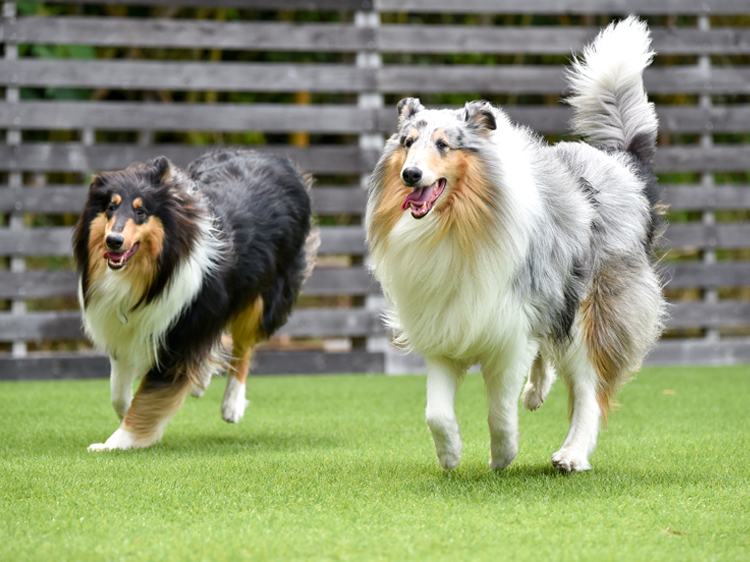 Synthetic grass for dogs Santa Cruz is quickly becoming a preferred material for pet owners. What better way to bond with your beloved pets than to make them an agility course that could improve their overall physical health in the long run? With the hypoallergenic and non-toxic properties of artificial grass, you are ensured that your dogs are safe, and they can play outside at any time of the day.
Why Is Artificial Grass Perfect For Energetic Dogs?
If you have those dogs that tend to run around in your backyard all the time, then it's best to consider having pet artificial grass in Santa Cruz. With durability that can last for more than 10 years, you get to save a lot of money in the long term. Still, the maintenance is very minimal, especially if you have pets such as dogs.
Your dogs won't even think about digging in holes whenever they want to play outside your home. This is why it is also recommended to have an obstacle course to keep your dog healthy. Research also shows that through consistent training, your dogs become more obedient.
Simple Obstacles That You Could Make For Your Dog
Artificial turf in Santa Cruz, CA goes really well with your agility courses. Aside from its durability, you are also guaranteed its weatherproof capabilities. So whenever it rains hard, the drainage system embedded in the synthetic grass will keep your yard in tip-top shape.
Here are some obstacles that you can get started with right away.
Bar Hurdles

These are areas where your dog can either go through or jump over. You can create these hurdles through PVC pipes. If you're on a tight budget, you could also use two evenly sized baskets and place a long pole on top.




Weave Poles

Want to test out your dog's reflexes? This obstacle is the way to go. These are basically upward poles wherein your dog has to navigate through them without hitting.




Similarly to bar hurdles, you could also use PVC pipes to achieve this type of course. Additionally, cones can also serve as an alternative for this obstacle.




Tire Jump

If your backyard has a big tree lying around, you could try hanging a tire with some rope for your dog to jump through it. Or it can even serve as a tire-swing while your dog is resting after having a good workout in your outdoor space.





Don't be afraid to experiment on different courses to have a more productive and fun time with your dog. With the power of artificial grass, the creativity is endless, whether you're setting up an obstacle course, a mini-golf park, or even a zen garden.
Want to set up your own synthetic grass for dogs in Santa Cruz? Call your local experts today!